Press release -
Northumbria leading €4M research to engineer a brighter future
Researchers from Northumbria University are heading up a €4M (£3.3M) project to develop a revolutionary new heating and power system using solar energy.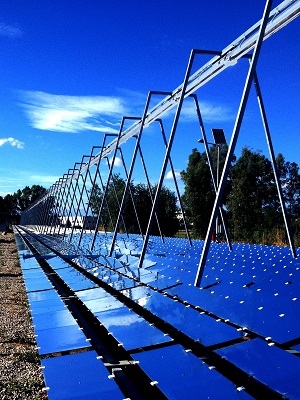 Innova MicroSolar is a four-year Horizon 2020-funded collaborative research project coordinated by Northumbria, which aims to develop a high performance yet cost effective solar heat and power system.
This technology could be used in homes and businesses around the world, lowering costs and protecting the environment through reduced greenhouse gas emissions. The research involves nine academic and industrial consortium members from the UK, Spain, France and Italy with expertise in turbines, mirror solar energy concentrating collectors, advanced heat pipe technology, phase change materials and smart control units for integration of solar thermal and power and boiler heating circuits. It is being led by Professor Khamid Mahkamov, an expert in Thermo-Mechanical Energy Conversion Systems, who is based in Northumbria's Department of Mechanical and Construction Engineering.
He said: "This EU funding provides us with the fast track to building the pilot plant and testing innovative engineering solutions, which are at the core of every major component of the plant. We have an international team of prominent experts in their respective fields and hope that the full potential for achieving high performance by the proposed technology will be demonstrated during plant tests in Sardinia in the near future."
If the project is successful, the proposed technology could be used to deliver the majority of domestic energy requirements in homes across the world and would provide considerable reductions in energy costs and greenhouse gas emissions compared to the best existing low carbon energy technologies.
Professor Mahkamov added: "The project is already of great interest to a number of external stakeholders and we are working closely with them on the exploitation plan. We also expect to generate a greater impact with outcomes of the project, which will go beyond the solar plant application, since all components are designed with potential for a successful use in many other industrial segments."
Future Engineering is one of Northumbria's eight Multidisciplinary Research Themes. Researchers in this area are exploring the engineering challenges of our urban environments, concentrating on three main themes of energy, transport and smart materials, with cross-cutting activities in photonics communications and control. Northumbria is a UK top-35 research department for Engineering with 79% of its outputs ranked world-leading or internationally excellent, according to the latest UK wide research assessment exercise (REF2014). This places us in the top quartile for world-leading publications among UK universities in General Engineering. The department also boasts strong, collaborative venture relationships with overseas partner institutions, businesses and training organisations including Penspen, an independent group of companies providing engineering and management services to the oil and gas industry.

To find out more about studying Mechanical and Construction Engineering at Northumbria University click here or sign up for one of our upcoming Open Days here.
---